DCD Towards Net Zero
As this year's DCD Towards Net Zero two day, online conference fast approaches, we are delighted to confirm our participation, offering insight and opinion on the future of data centre cooling as we move to a more sustainable world.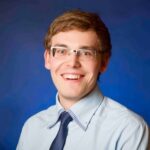 Daniel Burczyk, Solutions Specialist in Airedale's European Data Centre Team, will be delivering a key note presentation looking at the impact on the environment of excessive water use in data centre cooling systems. He considers why water use is a critical part of the net zero conversation and what alternative effective cooling methods are available to data centre operators, as they – and we – increase our commitment to a more sustainable future.
The presentation from Daniel, titled "Carbon at all costs? Why water use in data centers needs to be part of the net zero discussion", will be delivered live online at 10am EST (3pm GMT) on Wednesday 24th February 2021. Daniel will be in good company, with other speakers at the event from organisations such as Microsoft, Google and Shell. For more information about our presentation click here. To find out more and register to virtually attend this event, which runs from 24 to 25 February 2021, go online at
"Towards Net Zero"  is live online on 24 February for 2 days.