Smartia Webinar – Industrial AI & IOT in practice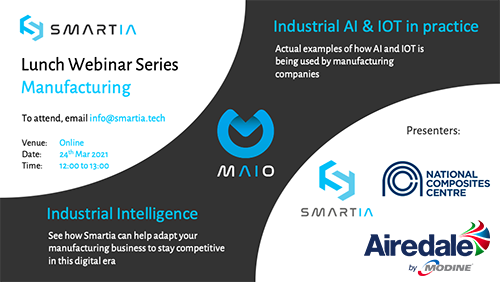 This month the Airedale controls team will be speaking at the forthcoming Smartia Webinar, which is focussing on Industrial automated intelligence (AI) and Internet of Things (IOT).
This hour long webinar looks at how manufacturing organisations are using AI and IOT and will consider what the benefits are to working practices and the end user. Like all new technology, AI and IOT does present some challenges and the session will consider what these are and how they might be overcome to ensure smooth and successful deployment.
Also covered will be what might happen to those businesses who avoid the inclusion of AI and IOT and choose to continue as they are. We will consider the key question of is there a risk of resistance to change and what that risk might be.

Speaking at the lunchtime session, which  will be Rory Gold, Data Scientist for Smartia, Jonathan Butt, Principal Research Engineer for the National Composite Centre and Jon Martinez, Commercial Controls Manager here at Airedale. The webinar starts at 12noon on Wednesday 24th March 2021. To register your interest please email info@smartia.tech. More information is available here.