CFD Analysis
CFD is a computational technology that uses numerical methods to solve and analyse the problems that involve fluid flows and thermal issues.
Airedale Computational Fluid Dynamics (CFD) services
Airedale offers a comprehensive range of CFD services from its UK based Head Office in Leeds. CFD is a computational technology that uses numerical methods to solve and analyse the problems that involve fluid flows and thermal issues.
We use CFD simulations while designing our integrated, efficient cooling solutions. CFD allows us to completely understand airflow and temperature distribution, allowing us to design optimised and efficient cooling systems.
We also use CFD techniques for customer specific applications of heating, cooling or ventilation systems used across data centre, process and retail environments.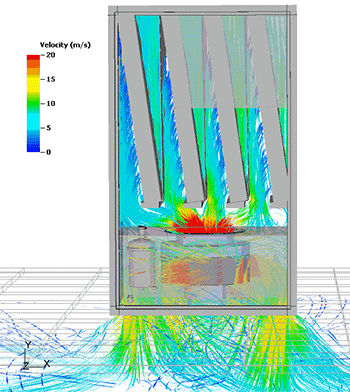 How we use CFD?
We use 3 dimensional CFD simulations in the development of air conditioning products. This approach allows us to make informed engineering and operational based decisions, optimising performance.
Our product development team is made up of experts who specialise in CFD simulation. This allows us to extend our CFD analysis techniques to our customers.
Analysis on specific applications means we can source the best fit solution for your application, minimising risk, maximising efficiency and reducing both capital and operational costs.
Such analysis provides peace of mind in relation to performance and ensures informed decisions are made, whether the cooling solution is for a new or retrofit facility. We work closely with Future Facilities using their 6Sigma software.
CFD can help with: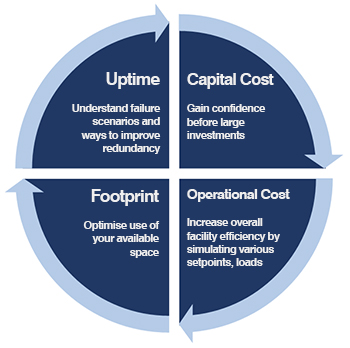 We are the only 5-star provider of cooling products in the industry
This allows us to create full representations of each facility, testing and evaluating the design and layout of the facility to make the right decisions for the project in the design and planning stage. Customers are provided with fully customisable CFD reports and detailed analysis with animation files to ensure their facility and cooling system works as required.
Such a methodology highlights potential issues before they arise; minimising hotspots, maximising system efficiency and optimising the configuration of the facility in a scientific, proven manner. All test environments are fully adjustable, allowing you to visualise facility performance and make educated informed decisions.
This approach provides an effective design and confidence that your facility and equipment will perform at its best.
General report
A soft copy (PDF) report will be produced based on the CFD findings. This report will incorporate the below:
Observations – general observation within the room in terms of temperature, velocity and pressure to highlight any potential hot spots or issues (SILVER)
Specific recommendations – based around solving any issues found, and can be the result of additional analyses undertaken at varying conditions (GOLD)
Structural optimisation – this covers includes any recommendations regarding position of cooling units, floor grilles, heat loads etc (GOLD)
Cooling system and controls optimisation – our knowledge of cooling systems and their controls allows us to present recommendations for improving a facility via cooling type, method or control (PLATINUM)
Failure Scenario – provides information regarding the facility and how it will operate in extreme scenarios such as loss of power or system failure (PLATINUM)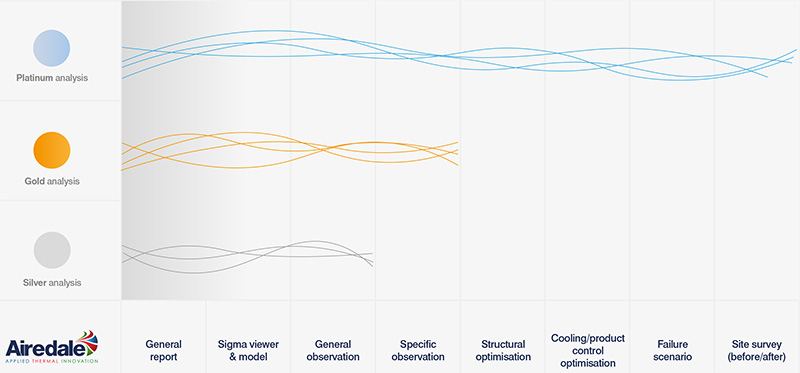 Site survey – before and after comparison
For Platinum analysis only, we will conduct a site survey which includes measurement of temperature and air flow on site, before and after implementing the recommended changes to the facility. This comparison includes thermal images and site acquired data.
6SigmaViewer and Model
For all levels of analysis we will provide online access to 6SigmaViewer to view your 'Virtual Facility'. You will have full functionality to view results and interrogate infrastructure.
CFD Analysis Examples – CFD Imagery
The below imagery represents CFD analysis conducted on a selection of our air conditioning products:
CFD Case Study
The following case study by Future Facilities demonstrates how Airedale uses CFD simulation techniques not only for our research and development, but also for our
offerings to customers.
Need a quote? Contact our CFD experts.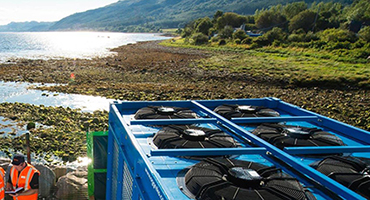 Our AC service plans offer a great preventative air conditioning maintenance service solution to improve system resilience and increase the longevity of your cooling system.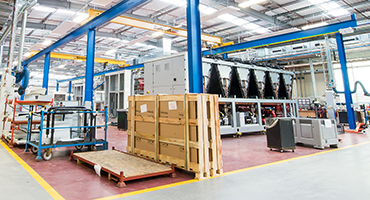 Airedale provides a technical support helpline operated by fully trained, highly experienced air conditioning and refrigeration engineers who are dedicated to answering customer queries for the lifetime of your equipment.