Airedale International shortlisted in 4 categories at the forthcoming Excellence in Business Awards 2020
After one of the most challenging years in most of our business and personal lives, we are absolutely delighted that our successes have been recognised in our region, with the announcement from the Yorkshire Post that we have been shortlisted in 4 categories at the 2020 Business in Excellence Awards.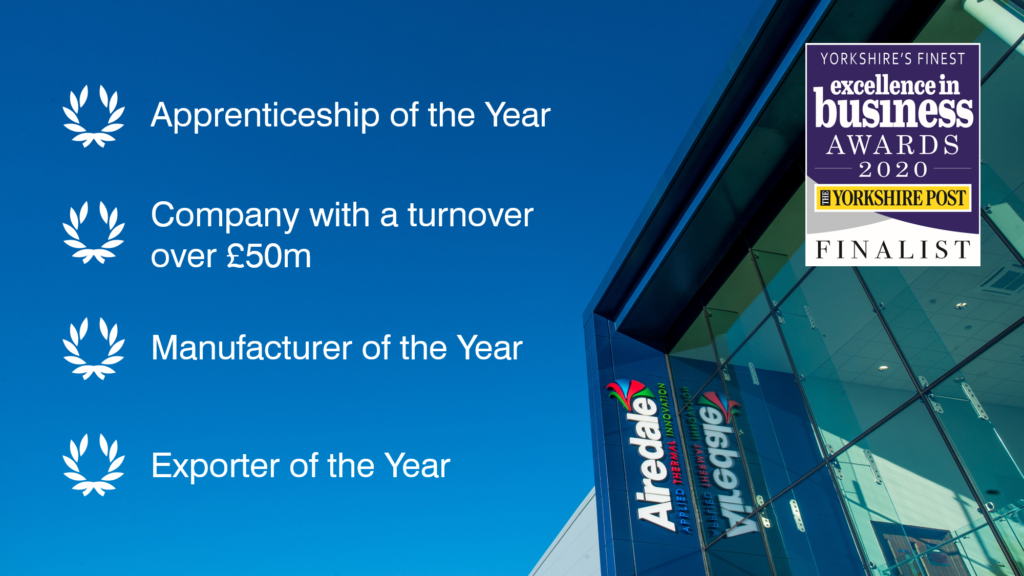 The vigorous nomination system which involves both a written submission and an interview with one of the esteemed judging panel, has seen us shortlisted for four awards: Exporter of the Year, Manufacturer of the Year, Apprenticeship of the Year and the much coveted "Business with a turnover of over £50million."
Having won Manufacturer of the Year in 2019, we are hoping that in our second year of entering we will again walk away with some silverware. As a manufacturer of state-of-the-art precision cooling products, and employing around 600 people – the majority of whom are from the Yorkshire Area – the Manufacturer of the Year award recognises the expertise of our people and our facilities and is something we are extremely proud of.
Our nomination in the Apprenticeship category reflects our investment in the next generation of engineers, supporting them in their own development and providing a career path and skills which are hugely transferable. We fund nationally recognised qualifications and offer on-the-job training, knowing that we are only ever as good as the skillset we employ. We believe in offering opportunities to our younger generations.
Being shortlisted for Exporter of the Year recognises our global presence, specifically within the data centre industry. With the recent announcement of our largest ever single order at £10m, from a global data centre provider, on top of the formation of our European and US data centre sales and engineering teams, it is important for us that our regional media platforms continue to support us as we continue to grow our international sales strategy.
Finally, our nomination in the category of "Business with a turnover of over £50m" is hugely important to us all, as individuals and as the team that makes up Airedale International. It is a highly esteemed award, given to the most dynamic and prosperous businesses in our region. Whilst we do work across the world and much of our business is done with global data centre providers, our employees are predominantly local. Having that recognition of success, on home turf, delivers an immeasurable sense of appreciation to the ones who matter the most – our people.
This usually glamorous event , organised by the Yorkshire Post, has for obvious reasons been toned down into a virtual ceremony which will take place on 4th November. Having endured the year we have all had, we are more excited than ever for the event and proud to be listed as finalists.