FREQUENTLY ASKED QUESTIONS
Below is a list of frequently asked questions regarding air conditioning parts we stock. If you don't see an answer to your question, feel free to contact us.
Frequently Asked Questions
What brands do you stock?
Airedale is the UK's largest stockholding for branded air conditioning spares. We deal directly with a wide range of UK and international manufacturers and hold stock of parts from brands like: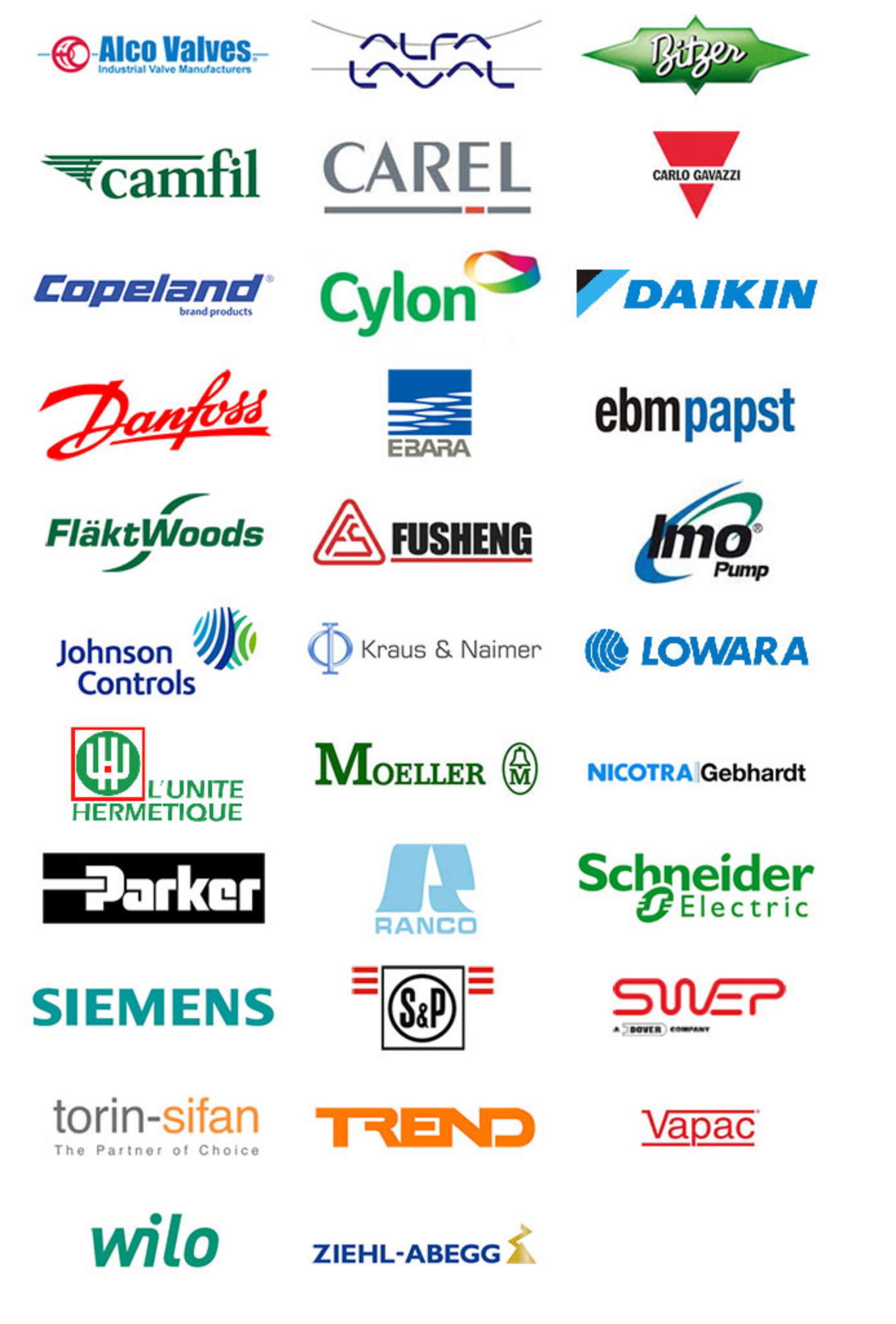 What precision air conditioning parts do you stock?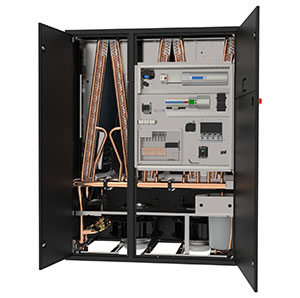 As a HVAC specialist, we also offer a wide range of spare parts and upgrades for precision air conditioning products regardless of manufacturer, which help to maximise system uptime and increase efficiency.
With the UK's largest stock holding of precision air conditioning spare parts, we can supply most parts on a same or next day delivery. Our team of experienced engineers and HVAC professionals has a wealth of knowledge on cooling and refrigeration systems and component parts. This means that they can offer quick diagnostic assistance, provide help with finding non-standard or rare parts, and are able to easily identify the parts you need to have your system fully optimised in the quickest time, with minimal disruption.
Types of precision parts we stock: humidifier cylinders, fans, controllers, filters, compressors, heating elements, EEV drivers, sensors, transducers, valves, condensate pumps, evaporator coils.
What chiller parts do you stock?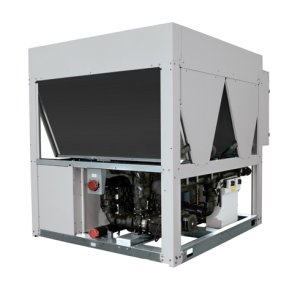 As the largest UK air conditioning manufacturer and pioneers in the HVAC market for over 45 years, we have extensive chiller knowledge and experience to deliver the right spare parts for your chiller directly to site. Whether you require a replacement component due to operational wear and tear, or you prefer to keep spares in stock, most parts can be provided on same day or next day delivery.
From compressors, to condensers, evaporators or small electrical and refrigeration parts, we offer genuine components from all the leading chiller brands at competitive prices, supplying parts for both Airedale and other manufacturer's equipment.
We understand that in environments where critical cooling or maintaining building conditions is essential, the quicker a replacement part is sourced and received on site, the less possibility there is of costly downtime. To make the ordering process even simpler, we can also supply you with a recommended spares request form, which can be used to order the most frequently required parts.
Types of chiller parts we stock: plate heat exchangers, coils, filter driers, fans, compressors, EEV drivers, controllers, sensors, transducers, fan speed controllers, pumps.
How do I know what part to ask for?
If you're not sure what exact part you need, just e-mail or fill out a form and provide us with as much information as possible (type of unit, serial number, year of manufacture, type of part required). Our experienced and dedicated Spares Team will be able to assist in locating the part you need.
What types of compressors do you stock?
With more than 500 different compressors and compressor parts in stock, we have the UK's largest stock holding of compressors available for immediate dispatch, making Airedale first choice for compressors in the HVAC industry.
Our large stock holding means that there is no need to wait for overseas delivery, as we can provide you with the right compressor in the quickest time. We stock all the leading brands including Danfoss, Copeland, Emerson, Siam and can deliver the compressor you require directly to site within 24 hours.
Our compressors can be used in single or tandem configurations and can also be modulated for increased efficiency. Whether it's screw, scroll, centrifugal or the latest Turbocor compressors, we will find a compressor to best suit your requirements and will offer you the best advice and technical support.
For further information on our compressors, see below or alternatively, please contact our spares team: spares@airedale.com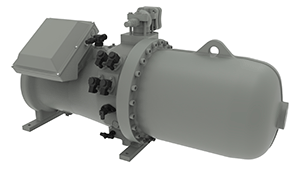 Screw Compressors
Screw compressors offer excellent individual full and part load efficiency and provide good value for money. With low noise and vibration levels and few moving parts, screw compressors are extremely reliable.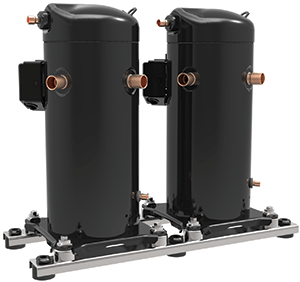 Scroll Compressors
Scroll compressors are very quiet and compact compressors with few moving parts and low vibration levels. Their simple, oil-free design means that they require little maintenance and they are highly efficient at managing both part and full loads. They offer greater cooling capacity than other types of compressor, whilst also using less energy.
For chiller operation, scroll compressors also provide better part load efficiency (IPLV) than chillers with a single large screw compressor and capacity controls.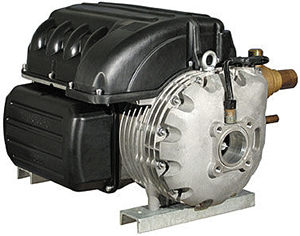 Screw Compressors
These intelligent, self-optimising, oil-free compressors are ideal for use where there are high cooling capacities and low compression ratios.They enable variable speed control and minimise input power with near silent operation.
Magnetic bearings within the centrifugal compressor levitate the compressor shaft and with no mechanical contact or friction between mating surfaces, the need for lubrication is eliminated.
These compressors offer excellent reliability and with virtually no vibration and fewer moving parts within the compressor, there is no operational wear and tear. Costly bearing replacement is therefore avoided and equipment life extended.
In the event of a power failure, the compressor acts as a generator and powers itself down in a controlled manner.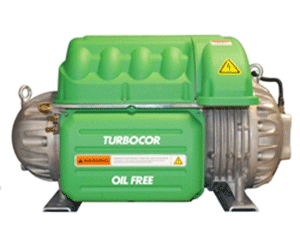 TG310 compressors
Revolutionary oil-free centrifugal TG310 compressors operate using the next generation low, global warming potential refrigerant R1234ze.
R1234ze significantly reduces environmental impact and has a low global warming potential (GWP) of under one*. This means that the time taken for the refrigerant to break down and for it to be absorbed into the atmosphere is minimised. Therefore, the lifespan of the refrigerant R1234ze is just 16 days.
Need a quick quote? Contact our Spares team.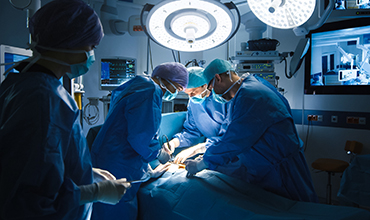 With over £1.5 million worth of stock on site at its Leeds headquarters, Airedale is the UK's largest stockist for air conditioning parts and specialist HVAC spares and
accessories.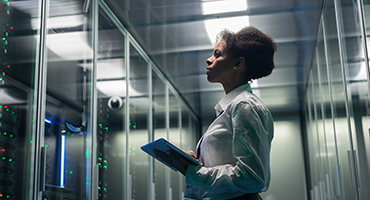 We recognise the critical importance of keeping a data centre operationally reliable at all times. We can provide a turn-key service at all stages of a data centres life cycle.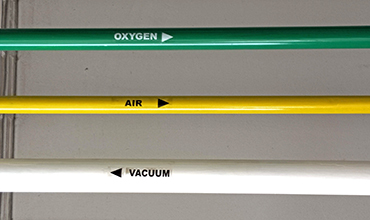 We provide a full commissioning service carried out by professionally trained, experienced engineers to ensure your equipment runs efficiently in order to optimise its performance.