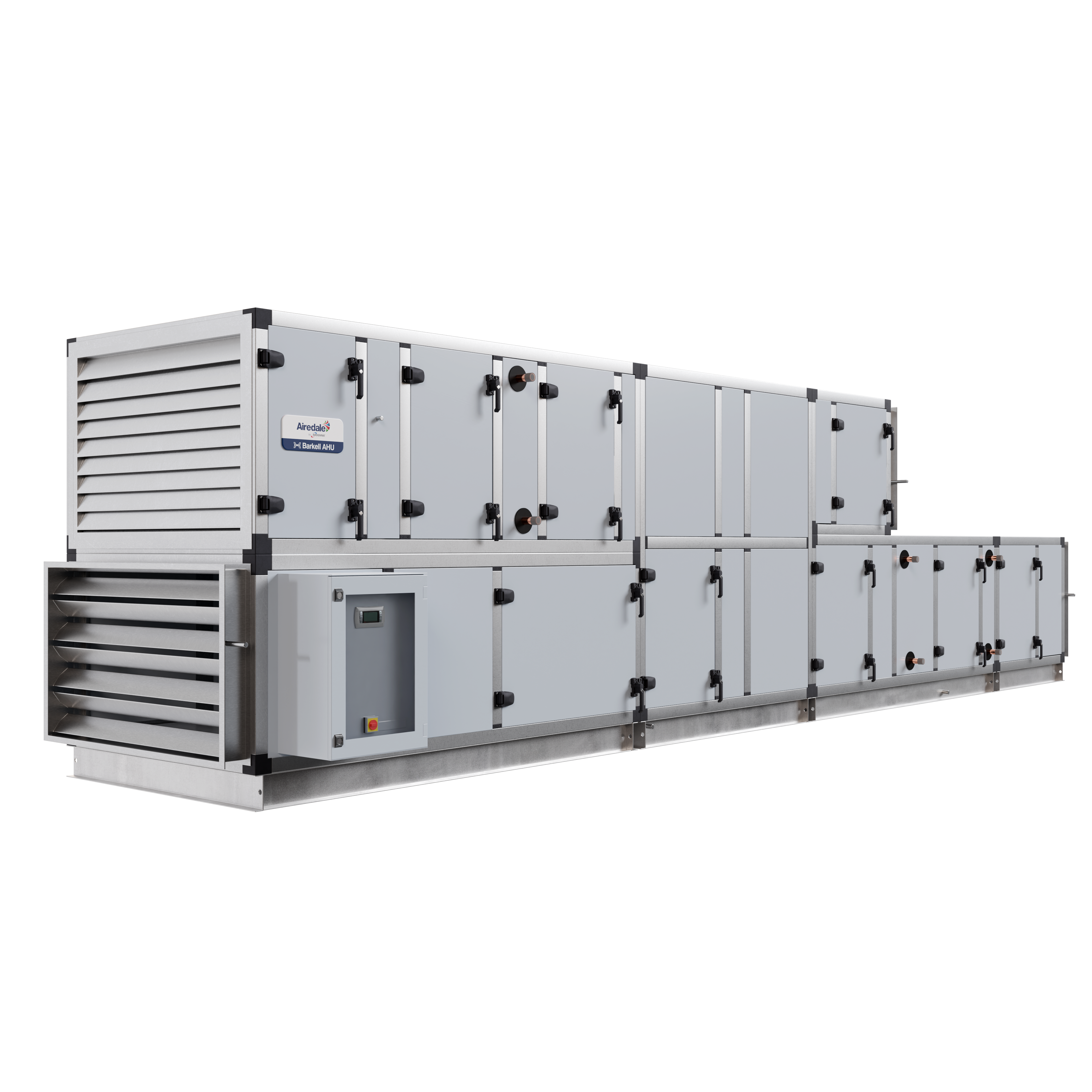 HTM 03-01 Compliant AHU Healthcare Range
Renowned for our work with the NHS and private healthcare and pharmaceutical clients, our specialised team of AHU engineers are experienced in the design and manufacture of HTM 03-01 compliant air handling units. Bespoke in design to suit project requirements, we work with our clients to advise them on the interpretation and application of HTM 03-01. We consider value engineering solutions where applicable, and always advise if any variation in design would compromise their compliance to HTM 03-01.
The construction offered on an Airedale HTM 03-01 compliant AHU provides improved energy efficiency, thermal insulation, condensation prevention, durability and noise reduction over other construction methods that might be offered elsewhere in the market.
Features of HTM 03-01 Compliant AHUs include:
Euroclass A fire rating
Rockwool insulation
Filtration – filter class ISO 16890
EC fans as standard
Stainless Steel and HDX Granite used in construction
Building Regulations Part L compliant
EcoDesign directive 2009/125/EC compliant
BS EN 1886 thermal transmittance and thermal bridging class T2/TB2
BS EN 1886 casing strength class D2 (D1 available on request)
BS EN 1886 factory air tightness class L2 (L1 available on request)
BS EN 1886 site air tightness class L2 (L1 available on request)
Filtration:
Filtration is one of the most important parts of HTM-03-01. In hospital buildings it is essential to maintain a clean and healthy environment by removing contaminants and reducing the spread of airborne diseases.
Thermal Transfer
T2/TB2 construction is a requirement of HTM-03-01 and provides a thermal barrier between the air inside and outside of the AHU.
Insulation
Rockwool is shown to offer significant benefits over other types of insulation in terms of energy efficiency, temperature control, condensation prevention, noise reduction and most importantly fire safety
Construction
Stainless steel and HDX Granite offer benefits such as corrosion resistance, hygienic properties, improved air quality, cleanability, thermal resistance, strength and durability, and aesthetic appeal.
Controls
Our inbuilt control solution offers flexible operation, fault detection capabilities, demand response participation, and integration with building automation systems.
Contact Us For More Information