Our History
Airedale International have over 45 years' experience and are proud to continue an ongoing legacy of innovation and excellence in British manufacturing.

Airedale International was founded in 1974 by Alan Duttine and Peter Midgley, both local to the West Yorkshire area in the United Kingdom. Both men had great vision, recognising the opportunities for comfort, medical and computer room cooling at the dawn of a new era in technology.
Peter and Alan were export sales managers (covering different territories) for Thermatank, based in Calverley, Leeds. The two barely knew each other but met, by chance, at Leeds Bradford airport when their flights were delayed.
The two got talking and the rest is history. They left Thermatank and set up Airedale Air Conditioning in June 1974.
Airedale's product range initially focused on close control (precision air conditioning) systems for computer rooms and hospital theatres; systems were capable of providing very precise temperature control (within +/-2° Celsius) and humidity control (within +/- 5%). Later on the range was expanded with the addition of comfort cooling systems as European demand increased on the back of increasing popularity in hot climates like the Middle East.
1974
Airedale International was founded in 1974 by Alan Duttine and Peter Midgley, both local to the West Yorkshire area in the United Kingdom. Airedale launch their first products, the VA5 precision air conditioner and CU5 condenser.
1979
Airedale moved from their original premises in 1979, acquiring a mill originally operated by L J Booth. The layout was gradually extended including the addition of an extension which was opened by HRH the Duchess of Kent in 1984.
1982
In May 1982 the name was changed to Airedale International Air Conditioning Ltd to reflect the increasing importance of export business.extension which was opened by HRH the Duchess of Kent in 1984.
1984
Airedale become the first UK manufacturer to launch a chiller, the ACC            
1987
Famous Zephyr and Sirocco close control units launched. Many of them are still in operation today.
1994
First manufacturer to use R407C refrigerant in both chillers and precision AC units
1997
Airedale's first R&D laboratory opened.                                                                
1999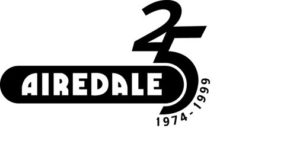 2001
First UK manufacturer to produce a free-cooling chiller, the Ultima FreeCool
2005
On the back of continued growth and innovation the company was acquired by US based thermal management company Modine in 2005.
2006
Pioneer in utilising TurboCor oil free centrifugal compressor technology          
2007
Pioneer in the use of R410A refrigerant.                                                               
2009
Airedale launches first IT cooling system, the OnRak.                                       
2010
World's first concurrent free-cooling chiller with centrifugal compressor, the TurboChill FreeCool.
2013
In 2013 the company suffered its largest setback to date, the company's factory in Rawdon suffering a catastrophic fire that left the premises almost completely destroyed. However, through the loyalty of staff and customers alike, Airedale survived, operating out of temporary facilities for three years while the Rawdon site was redeveloped.
2014
In 2014 Airedale acquired leading British Air Handling Unit manufacturer Barkell Ltd. Barkell, which has been based in the North East of England since 1981, has established a reputation for high quality products and services which has seen it acquire leading market share in the UK. The acquisition of Barkell allows Airedale to extend its product portfolio to include a range of air handling units (AHUs) which offer data centres, offices and industrial facilities a highly energy-efficient cooling system which uses indirect fresh air as the primary cooling medium.
2014
Also in 2014, Airedale opened an overseas office in Dubai, UAE, in order to support and expand their growing business across the Middle East.
2016
In 2016 HRH The Princess Royal opened the brand new, purpose built manufacturing HQ on the original site. The site is a 23000 sq m state of the art research, development, manufacturing, training and office complex supporting 500 staff.
2019
In 2019 Airedale announced the formation of a European Data Centre Team, aimed at growing their hyperscale data centre portfolio of references across the EU, with particular focus on the important growth areas of Frankfurt, Amsterdam, Paris and Dublin. Airedale launch the Azure range of air conditioning products, utilising R32 refrigerant
2021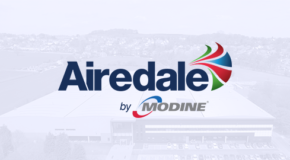 Airedale evolves its logo to highlight the relationship with parent company Modine, supporting its business strategy to become a global giant in data centre cooling.
2022
SmartCool ONE™ is launched : The new Precision Cooling range with capacity up to 1MW
2022
Barkell has been part of the Airedale family since 2014, and as of 1st April 2022, Barkell switched to trading under the Airedale name.
2022
Airedale now operates from additional facilities including Consett (UK), Guadalajara (Spain), Dubai (UAE), Rockbridge (US) and Grenada (US). This milestone is part of a global expansion strategy and in response to high demand for energy and water efficient cooling solutions for a data centre market expanding to meet the demands of a planet increasingly reliant on data.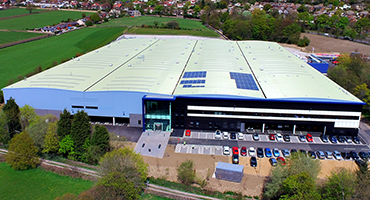 A 23000m2 centre of excellence for HVAC systems design, engineering, production and testing based in Leeds, West Yorkshire.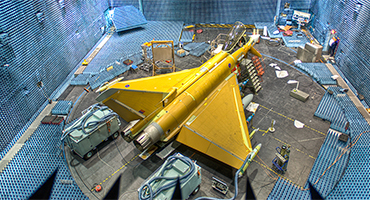 Airedale International are trusted globally in some of the world's most demanding HVAC applications, delivering thermal management to iconic projects.
.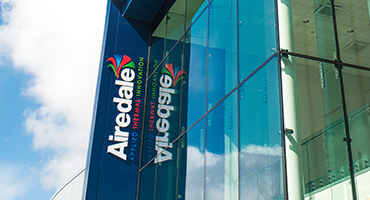 At Airedale, we believe that air conditioning has a critical role to play in an increasingly connected world. We also passionately believe that air conditioning equipment must play a responsible part in an era where sustainability is key to the preservation of our planet.