Airedale International Evolves Logo to reflect Global Strategy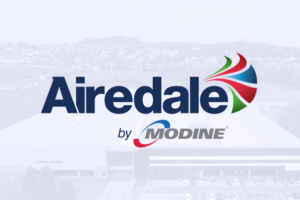 Airedale International is evolving its logo to highlight the relationship with parent company Modine, supporting its business  strategy to become a global giant in data centre cooling.
Airedale, which was acquired by US based thermal management group Modine back in 2005, has gone from strength to strength since forming in 1974, building a reputation for quality and efficiency which has led to world-wide success, particularly in Europe, the Middle East and East Asia.
Airedale is already enjoying significant success in the European data centre industry as a digital revolution – accelerated by the pandemic – sweeps the world. The launch of the new logo signposts Airedale's commitment to becoming a fully global operation, required to cement and increase its standing as a leading edge cooling provider.
The new logo retains the hallmarks of the existing design, which was introduced as part of a brand refresh in 2013, with the addition of Modine's logo underneath.
Darren Farrar, Marketing Manager for Airedale by Modine explained,
"Airedale has been part of the Modine family for almost a third of our history, it is a link we are proud of and so incorporating Modine within the Airedale logo is an important symbolic and strategic move.
"The Airedale logo is instantly recognisable to many, so we're not overhauling it, we're still the same company at our heart. Including Modine communicates to our clients and stakeholders that we are part of a global group, able to follow our clients wherever they expand and gives them the confidence that we have the stability and capability to deliver significant projects. It also gives us a jump start in regions, like the US, where Modine is already established but perhaps Airedale is less well-known."
Darren continued,
"Our manufacturing HQ in Leeds, UK is operating 24 hours a day; now is the time to expand. We are looking to increase our production capacity by utilising Modine manufacturing plants around the world, producing global products designed in the UK and built to the same principles and standards that have got us where we are today. By incorporating both brands in our logo, the transition into new manufacturing plants and new overseas markets will be smoother."
The legal entity 'Airedale International Air Conditioning Limited' remains unaffected by this change and the new logo will be phased into use from now till the end of 2021