HVAC training courses relaunch at Airedale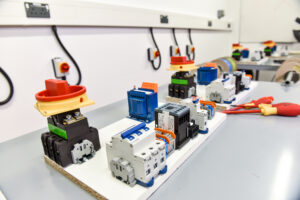 Airedale by ModineTM, the critical cooling specialists, has today announced the re-launch of their esteemed HVAC training courses at their centre of excellence in Leeds, UK.
Having closed throughout the pandemic to prevent virus transmission, news of the training centre re-opening has been well received by HVAC engineers and estate teams who have been lining up to register their teams for the accredited, legislation-compliant HVAC training courses.
The Airedale training centre offers a wide variety of BESA Academy accredited courses that meet legislative guidelines and are essential for engineers working with HVAC equipment and refrigerant gases. For example, the BESA Academy accredited F-Gas category 1 course is a requirement for UK-based engineers working on any size or type of equipment that contains fluoro-carbon refrigerants. Successful completion of the course provides students with mandatory F-Gas certification for a period of five years as outlined in the UK Fluorinated Greenhouse Gases Regulations 2021, after which a short refresher is required to update holders on changes to the regulations. Other BESA Academy accredited courses include pipework and brazing, safe isolation of electricity and refrigerant controls, alongside a variety of Airedale certified air conditioning courses and CPDs. The Airedale training centre has first class facilities and offers a mix of both classroom and practical teaching in their purpose-built workshop.
Training is headed up by Airedale's time-served engineer Duncan Hitchcox. Duncan started with Airedale in 1986 and has worked across many departments including production, research and development and controls, gaining the in-depth knowledge, skills and practical application experience that make him the proficient trainer that he is today.
Duncan said,
"I am delighted to be re-opening training to external clients after the covid lockdown. Whilst it was essential to temporarily close to protect our teams, we also have to balance that with the urgency of delivering accredited training that permits engineers to work across the UK in areas that are governed by legislation."
Duncan explained,
"Our practical training rooms make a difference. Explaining the theory is one thing, but being able to practice it in a purpose-built workshop with genuine HVAC equipment is what most engineers say is invaluable to their learning. Online learning doesn't allow for that."
Speaking about the training centre customers, Duncan said,
"Our training centre has always experienced high demand with courses getting booked up a month or two in advance. We have a lot of regular organisations who trust us to deliver the training their engineers need and we always get interest from new clients too."
He concluded,
"Our reputation for quality and innovation means our clients come back time and again because they know we don't stand still. We continue to grow and we continue to learn, and pass that learning on."
Anyone who is interested in finding out more about the Airedale training school or who wants to book a course, can do so here: Training Courses – Airedale air conditioning training courses
.