Airedale Launches Dedicated Cooling System Optimiser Solution in Response to Evolving Data Centre Designs
 PRESS RELEASE
Airedale by Modine™, the critical cooling specialists, has announced the launch of its dedicated Cooling System OptimiserTM solution – a sophisticated controls package that delivers optimal performance across entire chilled water cooling systems in large data centres, in response to industry demand for sustainable, stable and secure cooling as facilities move towards complex variable flow primary-only chilled water systems.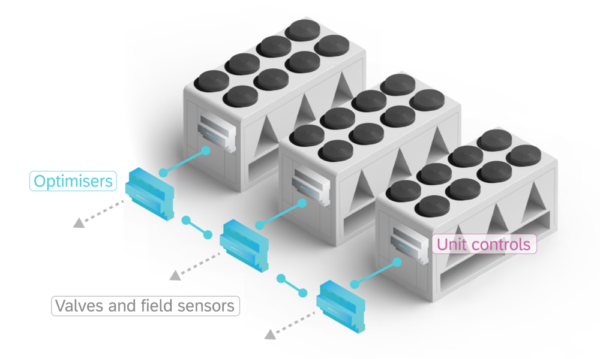 Leveraging the benefits of single-loop water cooling systems as well as remaining compatible with a primary/secondary water system setup, the Cooling System Optimiser is designed to ensure data centre cooling equipment like chillers and CRAHs work in harmony to deliver required cooling, maintain redundancy levels and increase resilience, all at the lowest possible energy outlay.
The solution has been developed in response to operators struggling to correctly optimise variable flow chilled water systems with traditional Building Management Systems (BMS). As chillers and CRAHs get larger, reflecting the growth in data centre facilities in general, chilled water systems need robust, intelligent controls in order to manage and optimise dynamic supply / demand in real time.
Cooling System Optimiser creates an additional controls layer in between the product controls and the BMS, using PLC-based deterministic controllers to "stretch" intelligence across chillers and CRAHs to ensure that operational decisions are taken based on the system as a whole rather than what inputs the individual product is receiving.
AT CRAH level, additional sensors are deployed in order to ensure conditions at rack level are the basis for cooling decisions. The number 1 priority for the Cooling System Optimiser is maintaining the white space within SLA by keeping server inlet air temperatures stable and within defined parameters. Beyond that, redundancy and energy use are then optimised. By operating in harmony, CRAHs can eliminate hot spots and reduce their fan speeds to deliver energy savings.
At chiller level, additional controllers are added to each control cabinet, with a multi-master controller managing communications across the created chiller network and between chillers and CRAHs. The chillers are programmed to operate in unison, ensuring water flow /  temperature reaching CRAHs is exactly what is required, not what the chiller is designed to produce. Free cooling and chiller staging is also managed and optimised.
Reece Thomas, Controls Product Manager at Airedale said,
"Whilst the BMS has an important role to play as a holistic monitoring and reporting tool, it can lack the ability to fully optimise precise, complex systems. We have developed the Cooling System Optimiser in response to demand for a deterministic control system that can proactively manage the three most important things in any data centre cooling system: resilience, redundancy and energy use."
Reece continued,
"The energy saving benefits of the Cooling System Optimiser are very tangible. For example, at part load conditions it ensures that the system flow rate and temperature exactly match the requirements of the white space, which is critical for managing energy consumption. Likewise, utilising data from the CRAH units is pivotal to ensuring they deliver air at the correct volume and temperature, and doing so in unison.
Reece concluded,
"The Optimiser enables a truly dynamic system from server to chiller, prioritising efficiency and redundancy. This method of control is a new concept, so we have developed a free-of-charge, detailed CPD for consultants who are interested in learning more." 
Press enquiries:
UK: Nicola Ware | E: nicola.d.ware@airedale.com | Tel: +44 113 2391000
US: Julie Walton Horsley | E: julie.m.walton@modine.com | Tel: +1 262-636-1125