10 year anniversary of "The Fire"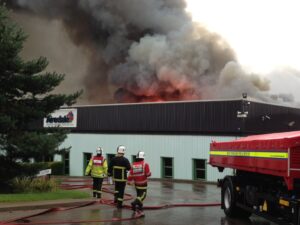 From Inferno to Invincible – 10 Years Since the fire that burnt Airedale's Leeds factory to the ground and the company almost to its knees, we review how our business has gone from strength to strength, opening multiple global production, engineering and sales locations, using its experience, resilience and engineering excellence to re-build something greater and much more powerful.
This month marks the 10 year anniversary of the devastating fire that saw our Airedale headquarters in Leeds, UK almost completely destroyed. Making TV news headlines across the region, firefighters from many divisions across West Yorkshire attended the 'code red incident', classified as such due to the immediate threat to safety of people and the building. The busy A65 road had to be closed and having exhausted all usual means, the fire service had to pipe water from the nearby Leeds Liverpool Canal to get it under control. Thankfully there were no injuries, with all employees safely evacuated. However, fear for our jobs and Airedale's future grew as workers viewed the scene and picked over the ashes and burnt machinery in the days following, wondering what might become of the business.
They need not have feared. Having had a weekend to gather our thoughts, our people kept going; working from home, working from hotels and eventually working from a temporary sites in Pudsey and near the city centre, it was only a matter of weeks before Airedale was back in business. It was a longer and more awkward journey to work for some, and we were grateful for the support from our employees, noting that we only lost one employee who was unable to manage the commute. The loyalty and commitment of our staff saved the business. They say you only know the strength of your team following a crisis – well ours were epic!
The astounding and delightful thing was that not one single customer cancelled their order with us. Having heard the news of the fire, they accepted delays  and stood by us, knowing that if the people at Airedale said they would deliver their order, then they would be true to their word. One customer commented 'I chose an Airedale product for a reason and for those same reasons I still want an Airedale product'.
It was a determined, high quality mix of diligence from the highly skilled workforce, contingency planning from management, financial backing from owners Modine and belief in our company from customers, that allowed Airedale to continue. Not only did we function, but we started in motion the journey that 10 years later would see us grow beyond the respected and renowned critical cooling organisation we had become, into the global powerhouse we are today. Our specialist knowledge in industries such as data centres, healthcare, pharmaceutical, telecoms and commercial wasn't lost in that fire; but our resilience and determination to be the best grew into something we had once only dared dream of.
We re-opened our headquarters in 2016, following 3 years operating out of a temporary site on the other side of the city, with an awe-inspiring, purpose built, 23,000 square metre, centre of excellence. This new state-of-the-art facility was built on the site of the demolished, fire-wrecked building, in Rawdon, Leeds. Local residents were consulted in the process of the rebuild and their co-operation and support was invaluable, as we recognise it cannot have been easy living next to building site for 2 years. The local authority was also fully supportive of the re-build and were keen to retain our business in Leeds.
The new building was formally re-opened in 2016 by HRH Princess Anne, and is home to one of the largest air conditioning research and development centres in Europe, with simulated climate temperature control chambers delivering test conditions from -20°C to +50°C. The site also features an extensive training school, along with a high-tech production space and comfortable, modern office facility.
Since the launch of the new Leeds facility, we have gone from strength to strength, with global Airedale production sites opening in Virginia (USA), Grenada (USA), Guadalajara (Spain) and Consett (UK) as well as a sales office in Dubai (UAE). Other regions are currently being considered, as we seek to bring our engineering centres closer to our customers.
With quality, efficiency and sustainability as the hallmark of our successes, these three elements have been at the core of our business since we opened back in 1974. Airedale has consistently been ahead of the trend when it comes to high performance, high efficiency solutions that seek to reduce energy consumption, water consumption and thereby reduce the impact of cooling on the environment. This has never been more important than today and sets us in good stead for the future.
Our managing director, Adrian Trevelyan was head of our UK-wide service department at the time of the fire. Now MD, Adrian started at Airedale 34 years ago, as an apprentice, wiring units. Having worked in a variety of departments within Airedale, progressing his career to reflect his commitment and experience, there is no one better qualified to lead the Airedale business into the next 10 years of formidable growth and expansion.
Adrian said,
"We have come a long way as a business in the 10 years since the fire. As our global expansion plans continue to flourish, the growth we have experienced as both individuals and as an organisation are a just reward for the efforts and expertise of our people.
Adrian continued,
"Part of our success is that we continually invest in research and development, setting the pace and standard for high efficiency, high performance cooling solutions. This industry is dynamic and we must continue to reflect that ever-changing landscape with new cooling technologies, systems and intelligence.  I am extremely proud to lead Airedale into the next 10 years of growth and success."
As the data centre industry continues to experience unstoppable growth to support the rise in demand for digital data consumption, pharmaceutical laboratories become even more sophisticated, demanding more precision temperature controlled environments and healthcare facilities seek to improve indoor air quality to reflect the growing research that supports this need, Airedale has secured its place in the future with continual research and investment to support these industries.