Airedale launch sustainability range with AlphaChill and AlphaChill Plus TM Heat Pump Chillers.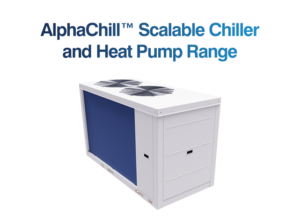 Airedale by ModineTM, the critical cooling specialists, has today announced the launch of AlphaChill, a scalable, low-GWP, reversible heat pump chiller range to join its new series of sustainable cooling solutions. With individual unit capacities between 24kW and 102kW, and optimised for lower GWP refrigerant R32, AlphaChill delivers excellent efficiency, versatility and performance.
Launched to meet the demands of developers and consultants looking for versatile thermal comfort solutions, the AlphaChill range comprises compact, lower capacity chillers that can be scaled to meet the needs of project requirements. With silent and super silent options available, it is suitable for urban installations where low sound, reduced footprint and high efficiency performance is critical.
With sustainability at the heart of its design, AlphaChill uses an inverter compressor to deliver precise capacity matching to cooling and heating demand, delivering SEERs of up to 5.37 (cooling only) and up to 4.81 (heat pump). Chilled water temperatures range from -8oC to 20oC with the heat pump delivering comfort cooling and domestic hot water of up to 60°C.
AlphaChill has the flexibility of being able to connect up to 16 units in a local network, delivering a total capacity of 1568kW cooling and 1470kW heating. This allows for scalability and is important for organisations looking to grow in size, but needing to start with smaller capacity sizes for footprint or budgetary reasons.
As an extension of the range, AlphaChill Plus is a larger capacity, two-circuit reversible heat pump. AlphaChill Plus appeals to projects that demand the efficiency, low sound and low GWP refrigerant delivered by AlphaChill, but with an increased capacity. AlphaChill Plus has a capacity of 115kW to 233kW, with the ability to be connected to a network of up to 8 units, offering a total capacity of  up to 1864kW.
The launch of AlphaChill and AlphaChill Plus supplements Airedale's existing range heat pump, chiller and AHU solutions, delivering one of the most comprehensive ranges of HVAC solutions in the industry.
Joining the recently launched iChillTM, SpiraChillTM and MultiChill™, AlphaChill is also a result of an agreement signed with an original equipment manufacturer (OEM) outside the Airedale group and comes with the reassurance of being covered by Airedale support services including dedicated UK technical support, warranty and their UK-based, 65-strong, 24/7 service support team.
Jonathan Jones, Commercial Director for Airedale, said,
"AlphaChill is an ideal solution for both comfort and process applications, requiring smaller, scalable capacities in urban areas. AlphaChill Plus is an exciting extension to the range, offering a sustainable solution for those needing a slightly larger capacity."
Jonathan continued,
"Our new range of more sustainable cooling solutions, paired with the assurance of Airedale warranty, technical support and maintenance services, allows us to serve the huge demand in the market for high performance cooling solutions, from a trusted, experienced and reputable organisation such as Airedale."
For more information about this range visit www.airedale.com/products/chillers/alphachill/
Ends
About Airedale
At Airedale, we believe that air conditioning has a critical role to play in an increasingly connected world. We also passionately believe that air conditioning equipment must play a responsible role in an era where sustainability is key to the preservation of our planet. Airedale is a global specialist in providing complete cooling solutions to industries where HVAC is mission critical, like data centres, healthcare, telecoms, education and pharmaceuticals. Our leading edge products, including chillers, close control and air handling units, are backed up with intelligent software solutions and complete applications and service support. With a strong R&D ethos rooted in sustainability and quality, Airedale's 600+ employees are committed to providing experiences, products, service and solutions that support our clients in meeting  their performance, efficiency and sustainability goals. Headquartered in Leeds, U.K. and with facilities in Consett (U.K.), Guadalajara (Spain), Dubai (UAE), Rockbridge (U.S.) and Grenada (U.S.), Airedale is part of Modine (NYSE: MOD), a diversified global leader in thermal management technology and solutions. For more information visit www.airedale.com
About Modine
At Modine, we are Engineering a Cleaner, Healthier World™. Building on more than 100 years of excellence in thermal management, we provide trusted systems and solutions that improve air quality and conserve natural resources. More than 11,000 employees are at work in every corner of the globe, delivering the solutions our customers need, where they need them. Our Climate Solutions and Performance Technologies segments support our purpose by improving air quality, reducing energy and water consumption, lowering harmful emissions and enabling cleaner running vehicles and environmentally-friendly refrigerants. Modine is a global company headquartered in Racine, Wisconsin (U.S.), with operations in North America, South America, Europe and Asia. For more information about Modine, visit www.modine.com.
Media Contacts:
UK: Nicola Ware | E: nicola.d.ware@airedale.com | Tel: +44 113 2391000
US: pr@modine.com