Overview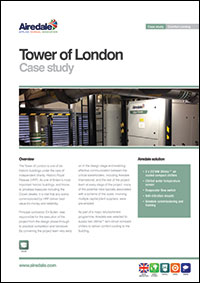 The Tower of London is one of six historic buildings under the care of independent charity, Historic Royal Palaces (HRP). As one of Britain's most important historic buildings, and home to priceless treasures including the Crown Jewels, it is vital that any works commissioned by HRP deliver best value-for-money and reliability.
Principal contractor, EV Bullen, was responsible for the execution of the project from the design phase through to practical completion and handover. By convening the project team very early on in the design stage and enabling effective communication between the critical stakeholders, including Airedale International, and the rest of the project team at every stage of the project, many of the potential risks typically associated with a scheme of this scale, involving multiple capital plant suppliers, were pre-empted.
As part of a major refurbishment programme, Airedale was selected to supply two Ultima™ twin circuit compact chillers to deliver comfort cooling to the building.
Airedale solution
2 x 237kW Ultima™ air cooled compact chillers
Chilled water temperature sensor
Evaporator flow switch
Anti-vibration mounts
Airedale commissioning and training
We are delighted with the successful outcome of this project. A building as unique and cherished as the Tower of London requires the highest levels of quality, attention to detail and understanding of the complexities involved. Every member of the project team met and exceeded every expectation.

Ken Deal Project Manager, EV Bullen
Contact Us For More Information