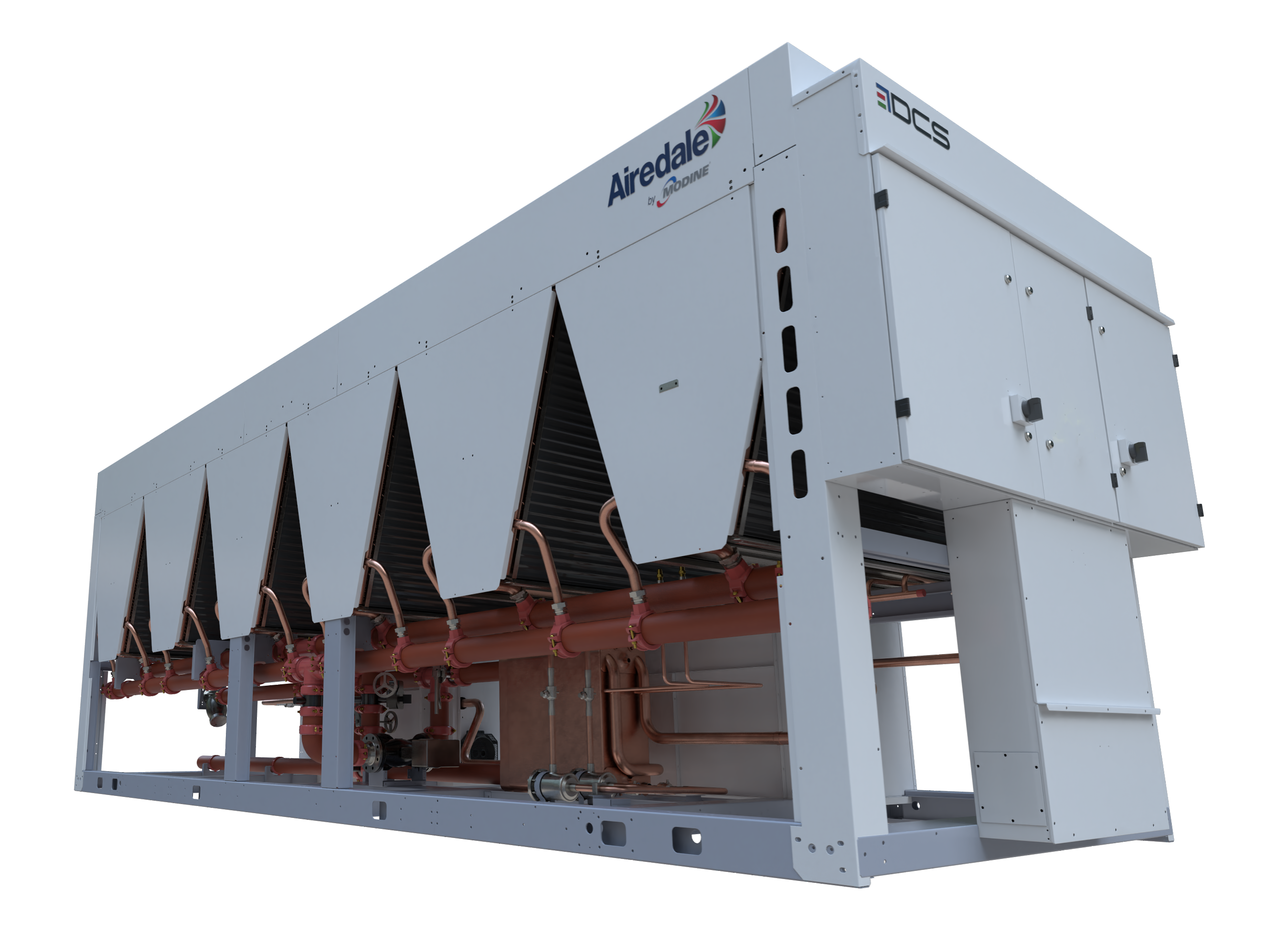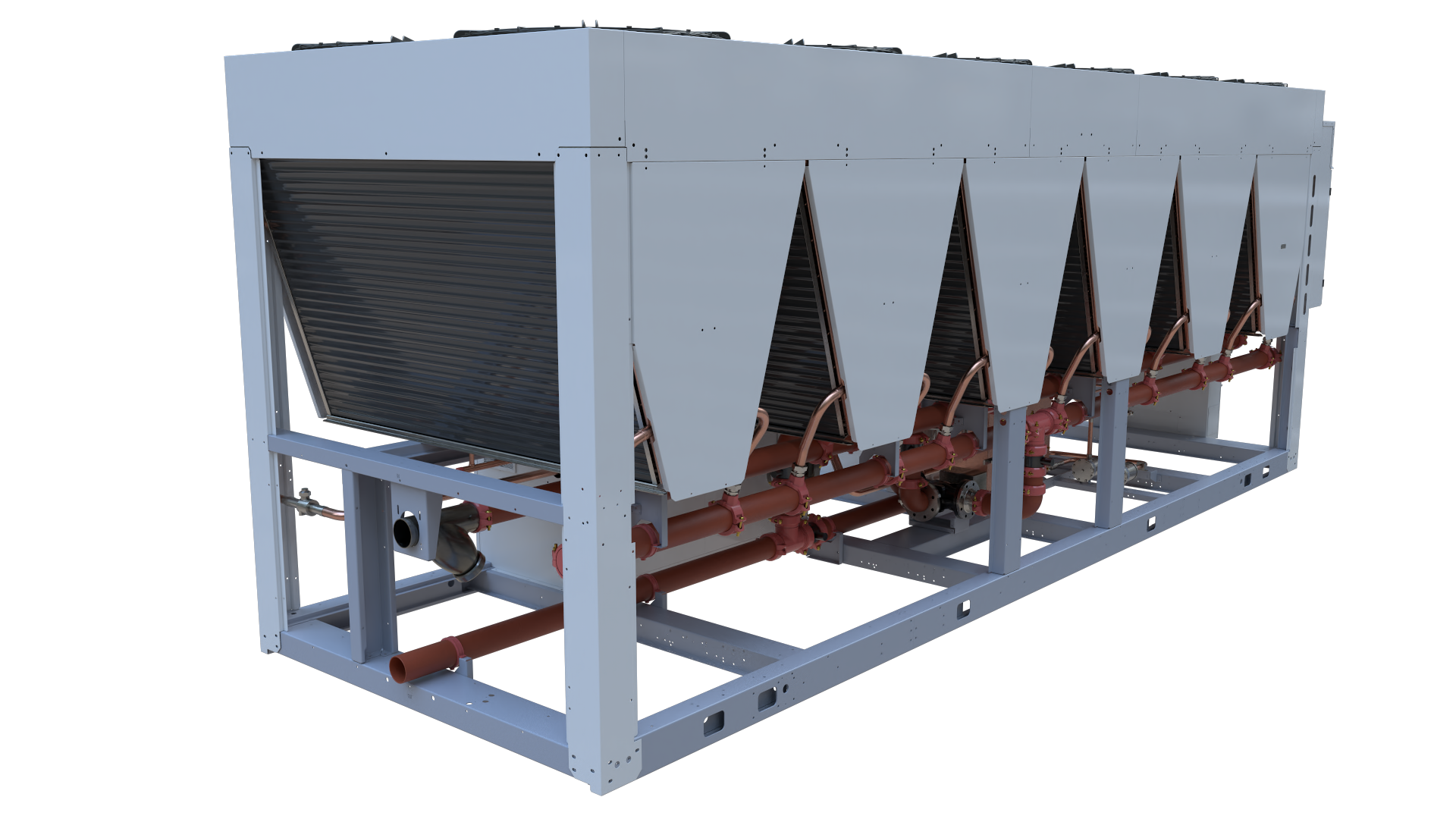 DeltaChill DCSTM takes our standard DeltaChillTM chiller to the next level.
Optimised for data centre environments, DeltaChill DCS benefits from enhanced free cooling technology to maximise efficiencies in high temperature settings.
DeltaChill DCS, like all DeltaChill chillers, is an air cooled scroll chiller, that operates using either refrigerant R410A, or the lower GWP refrigerant R32. Available with a wide span of cooling capacities, from 110 to 1010kW, this extremely energy efficient yet compact chiller combines quiet, cost effective scroll compressors with the latest fan technology, applied in a modular V-frame coil design.
Microchannel heat exchangers lift efficiency even higher, whilst still minimising space claim. With approximately 300 models available, it offers exceptional flexibility, tailored exactly to your application, allowing unit selection to be optimised for efficiency or footprint.
At a glance:
110 to 1100kW
Approx 300 models
R32 model available for reduced GWP
Quiet, cost effective scroll compressors
Latest fan technology applied in a modular V-frame coil design
Microchannel heat exchangers lift efficiency higher
Free cooling functionality offers significantly reduced running costs
Low sound ranges: Quiet (R) and Extra Quiet (X)
Sequenced scroll compressors minimise sound and allow capacity to more precisely match the application
Electronic Expansion Valves increase ESEER by 30%
Leak detection as standard on R32 model
EC Fans as standard
DeltaChill DCS offers the same great features of our standard DeltaChill chiller, but with an enhanced free cooling design package that enables it to operate in full free cooling mode for longer, from an increased maximum supply temperature, along with a range of DCS specific options for improved high capacity performance:
Enhanced free cooling, offering more full free-cooling for even lower PUEs:
Larger 910mm EC fans allowing more air through at any one time (compared to 800mm on standard units)
5 rows of free cooling coils for increased free cooling capacity (compared to 3 rows on standard units)
maximum supply/return water temperatures, up to a maximum of 20/32oC (68/90oF)
Closer approach temperatures from external ambient temperature to supply water temperature, that lead to….
Higher percentage of full free cooling over the course of a year, for reduced energy expenditure
Reduced mechanical cooling reduces the stress on components such as compressors, thus reducing maintenance requirements and increasing longevity
Reduced energy consumption + lower approach temperatures = improved PUEs
DCS specific options:
Glycol external loop system to facilitate 100% water within the Data Centre
Various ATS (automatic transfer switch) options, including mains to mains, fully programmable selections
Leak detection (standard on R32 models)
Remote condenser selection
Back to back footprint arrangement to maximise output whilst minimising footprint, with simplified control, electrical and water connection arrangements
Up to 36 fan arrangements to achieve higher duties
Acoustic packages for noise sensitive sites
Adiabatic spray systems and power cooler options as required
Contact Us For More Information