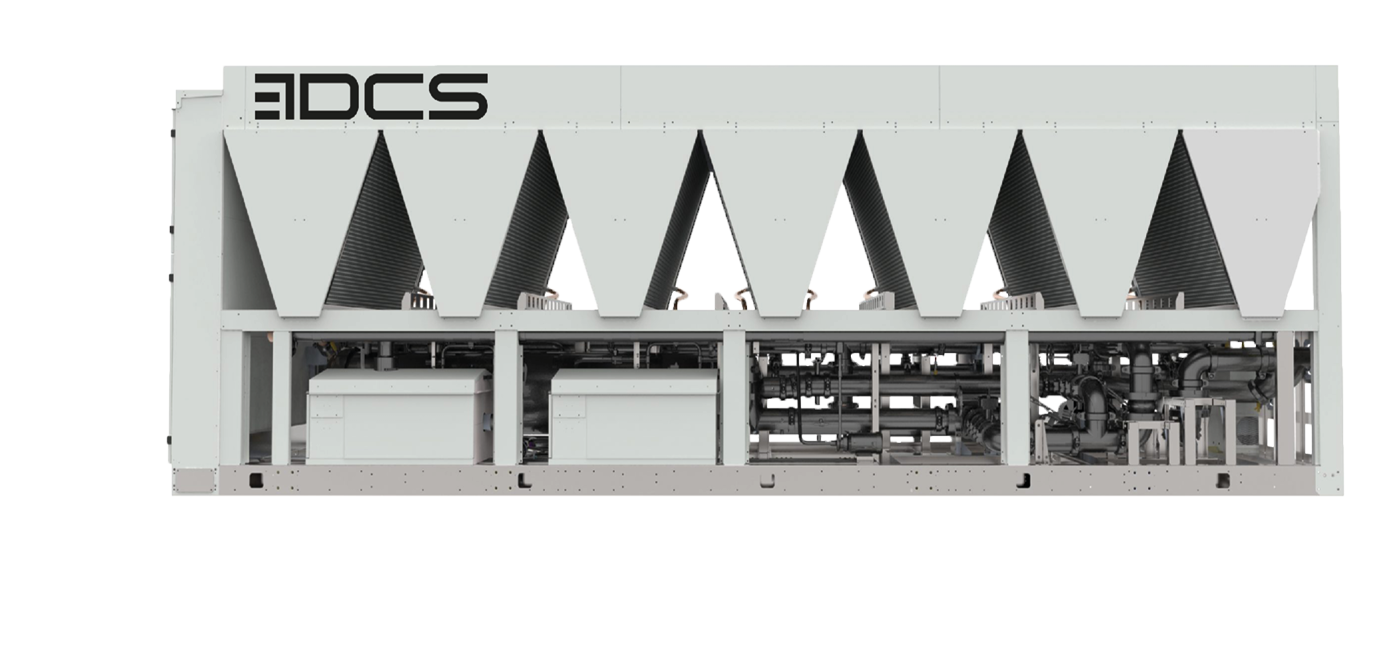 Airedale's flagship chiller platform is built around and optimised for Turbocor oil free centrifugal compressor technology
Capacities range from 200kW to 1830kW and models are available with R134a, R513a and R1234ze refrigerant
TurboChill DCS™ is the ultimate high capacity, energy efficient, air-cooled chiller solution, combining the unparalleled efficiency of oil-free centrifugal TurbocorTM compressor technology, with the power saving benefits of free-cooling.
TurboChill is often selected by data centre operators who require a cooling system that, while operating in free cooling mode for large chunks of the year, doesn't compromise when mechanical cooling is called on, with reliability, energy efficiency and low noise prioritised in its design.
TurboChill DCSTM is an enhanced, optimised free cooling chiller, specifically designed for the data centre environment to maximise opportunities for free cooling efficiencies in high temperature settings. Brilliantly engineered, using Airedale's vast expertise in cooling technology, TurboChill DCS chillers minimise environmental impact by lifting efficiency to new heights and pushing down sound levels, whilst reducing PUEs.
TurboChill DCS is an air-cooled, single/dual circuit high capacity free cooling chiller unit, which combines the unparalleled efficiency of centrifugal TurbocorTM compressor technology, with the power saving benefits of enhanced free cooling and includes optional selections that have been specifically designed for high capacity, data centre performance.
With over 230 models available across refrigerants R134a, R513a and the lower GWP refrigerant, R1234ze, TurboChill DCS is a highly sustainable option, and the R1234e model automatically receives two BREEAM points in recognition of its low global warming impact. R1234ze readily breaks down in the atmosphere within a very short lifetime (16.4 days) and is rated by the International Panel for Climate Change (IPCC) with a 100-year GWP lower than 1, which performs better than CO2.
The oil-free operation of the revolutionary self-optimising Turbocor compressor allows infinitely variable speed operation, giving exact capacity match and using substantially less power at part load.
At a glance
200 to 1830kW
236 models
Available with refrigerant R134a, R513a and R1234ze
R1234ze model offers 2 BREEAM points, with leak detection as standard
Near silent, oil free, centrifugal compressors
Free cooling functionality offers significantly reduced running costs
EC Fans as standard
Oil-free operation enhances heat exchanger efficiency
Modular 'V' frame coil arrangement offers increased heat exchange area and improved air flow for increased efficiency
Low sound ranges: Regular Quiet (R) and Extra Quiet (X)
Polymer-coated microchannel coils for reduced life cycle costs and reduced footprint
Up to two compressors across a single circuit for reduced energy consumption at part load
.
Enhanced free cooling
TurboChill DCS offers the same great features of our standard TurboChill chiller, but with an enhanced free cooling design package that enables it to operate in free cooling mode for longer, from an increased maximum supply temperature, thus reducing PUEs. With a complete redesign of the V block coils to optimise free cooling performance, the TurboChill DCS offers:
Larger 910mm EC fans allowing more air through at any one time (compared to 800mm on standard units)
5 rows of free cooling coils for increased free cooling capacity (compared to 3 rows on standard units)
Increased maximum supply/return water temperatures, up to a maximum of 20/32oC (68/90oF)
Closer approach temperatures from external ambient temperature to supply water temperature, that lead to….
Higher percentage of full free cooling over the course of a year, for reduced energy expenditure
Reduced mechanical cooling reduces the stress on components such as compressors, thus reducing maintenance requirements and increasing longevity
Reduced energy consumption + lower approach temperatures = improved PUEs
TurboChill DCS is also available with a bespoke selection of options, designed specifically for high capacity performance in the data centre environment. These options include:
Glycol external loop system to facilitate 100% water within the Data Centre
Various ATS (automatic transfer switch) options, including mains to mains, fully programmable selections
Leak detection (standard on R32 models)
Remote condenser selection
Back to back footprint arrangement to maximise output whilst minimising footprint, with simplified control, electrical and water connection arrangements
Up to 36 fan arrangements to achieve higher duties
Acoustic packages for noise sensitive sites
Adiabatic spray systems and power cooler options as required
Contact Us For More Information