ACIS™ provides the big picture at Brighton Digital Exchange
Airedale Air Conditioning, Leeds, UK, July 29, 2015
The latest installation of Airedale's Building Management System, ACIS™ (BMS) has been completed at the new, purpose designed data centre for Brighton Digital Exchange, New England House, Brighton, and was developed in collaboration with INS Sudlows Limited.
ACIS™ provides complete end-to-end visibility of a customer's data centre and facility in order to balance availability and efficiency. With a simplistic interface, ACIS™ allows users to manage cooling and other building services, from any manufacturer across multiple sites. Not only does an end-to-end view protect system availability, it can also enable concrete energy and operational efficiency gains; allowing users to adapt quickly to business requirements.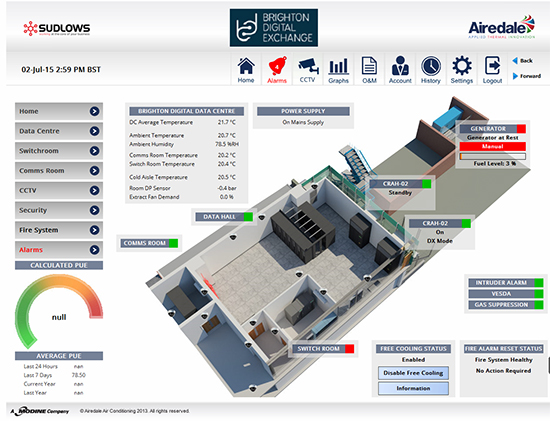 The latest installation of the ACIS™ system is at Brighton Digital Exchange is an extended version BMS which is monitoring temperature and humidity within a range of data halls, comms rooms and switch rooms. It automatically controls extract dampers and fans for free-cooling SmartCool™ units, as well as monitoring a range of Mitsubishi A/C split units. The Brighton Digital Exchange ACIS™ also monitors energy usage, uninterruptable power supply (UPS), fire suppression and diesel generators; as well as integrating CCTV and access control systems.
CCTV and access control systems are commonplace at all data centre sites and integration of these via ACIS™ is a growing market, ensuring restricted access and maximised security.
Features of the integration at Brighton Digital Exchange include; live imagery, alarm generation, motion detection and access control. Via the remote interface, facility managers can enable or disable alarms, and create temporary pin code access to adjust to business requirements in real-time, balancing flexibility and security.
Contact Us For More Information