The challenge
Custodian Data Centre, winner of the Data Centre Leaders Awards 'Green' category, designed its data centre with the highest environmental efficiencies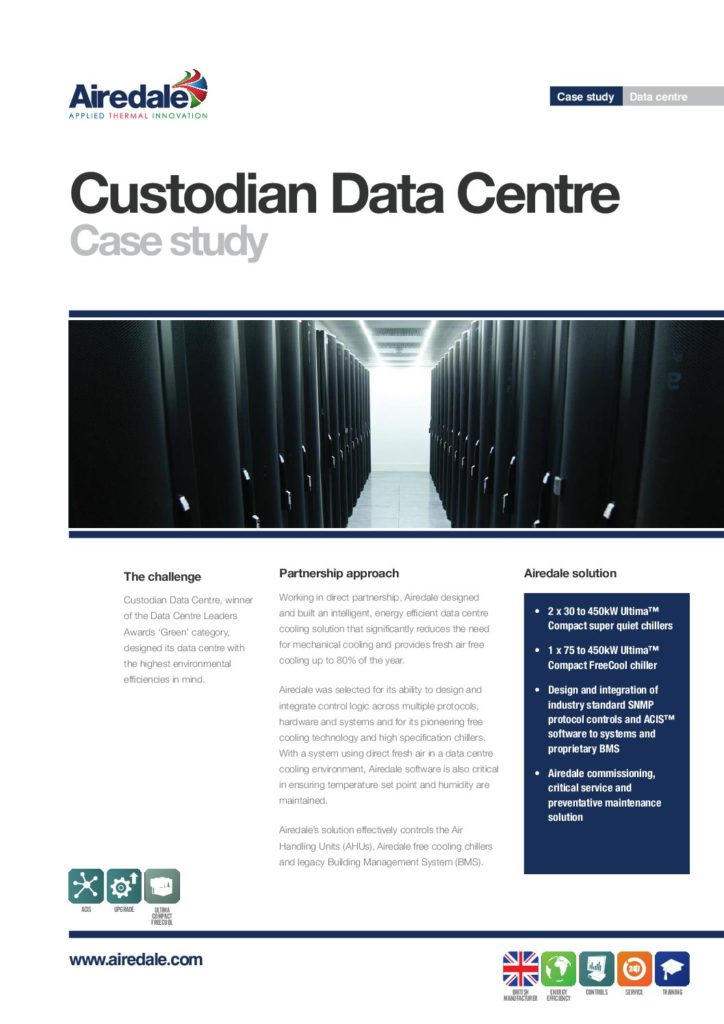 in mind.
Partnership approach
Working in direct partnership, Airedale designed and built an intelligent, energy efficient data centre cooling solution that significantly reduces the need for mechanical cooling and provides fresh air free
cooling up to 80% of the year.
Airedale was selected for its ability to design and integrate control logic across multiple protocols, hardware and systems and for its pioneering free cooling technology and high specification chillers.
With a system using direct fresh air in a data centre cooling environment, Airedale software is also critical in ensuring temperature set point and humidity are maintained.
Airedale's solution effectively controls the Air Handling Units (AHUs), Airedale free cooling chillers and legacy Building Management System (BMS).
Airedale solution
2 x 30 to 450kW Ultima™ Compact super quiet chillers
1 x 75 to 450kW Ultima™ Compact FreeCool chiller
Design and integration of industry standard SNMP protocol controls and ACIS™ software to systems and proprietary BMS
Airedale commissioning, critical service and preventative maintenance solution
"Airedale provided us with a fast, reliable and most importantly bespoke solution. From initial business to present day they have provided us with continuous support"

Robert Williams, Technical Director, Custodian Data Centre (www.custodiandc.com)
Contact Us For More Information