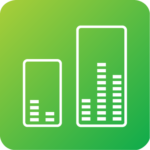 Building Energy Management Systems
A Building Energy Management System, or BEMS can help businesses to significantly reduce their energy consumption.
BEMS connect a building's systems (for example, lighting, HVAC, and plant room equipment) to create a single, central platform to manage a building's energy consumption, sometimes across multiple sites. Where a BMS can control many other services on a site, a BEMS focuses on energy management, providing metering, sub-metering, and monitoring functions which collate energy data.
This enables building and facility managers to gain detailed insight into their building's/site's energy usage, and these insights can be used to further program systems and equipment for optimum energy efficiency.
Energy costs continue to rise, which means that operating costs for businesses with high energy usage become a primary concern. As environmental concerns also mount, many businesses are looking for ways to improve performance in these areas.  Monitoring and managing energy use is one of the best ways to reduce business costs, improve energy efficiency and reduce the carbon footprint of a site.
Airedale can supply a range of products that monitor and analyse energy consumption, along with other utilities such as gas and water. This can all be packaged into one easy-to-use interface that can be retrofitted to existing Building Management Systems, or can be added to ACIS™ BMS providing a fully integrated Building Energy Management System (BEMS).
DASHBOARD
ACIS provides all information in a fully customisable single dashboard, mobile optimised and intuitive to use
MONITORING
Power monitoring, frequency monitoring and triad monitoring
ALARMS
Real time alerts for equipment and systems outside operating parameters to ensure key personnel can act promptly
DATA VISUALISATION
Graphical representation of live and historical data so user can quickly pinpoint key metrics and areas of concern
ANALYTICS
Use data to make educated decisions regarding energy activities
PHASE BALANCING
Save energy by balancing the electrical load on a system