Airedale wins contract for Museum of the Future, Dubai
UK Engineering supporting the future of science, technology and innovation:
Set to open in 2020, the Museum of the Future is a futuristic structure and unique initiative by HH Sheikh Mohammed bin Rashid Al Maktoum.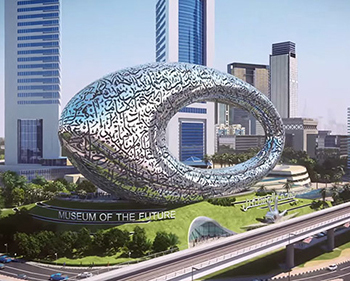 The Museum will create a platform to demonstrate and test the latest inventions and prototypes from both innovative start-ups and the world's greatest technology giants. It will host innovation facilities and design studios with universities, companies and research partners, offering courses and workshops as well as public talks and events.
.
"The Museum of the Future will be an incubator for ideas, a driver for innovation, and a destination for inventors and entrepreneurs from around the world."  
– HH Sheikh Mohammed bin Rashid Al Maktoum Vice President, Prime Minister and Ruler of Dubai
Airedale have once again been recognised for quality engineering, and have been selected to supply the cooling systems for this incredible project.  We supplied a total of 5 Smartcool Dual fluid systems, customizing our units with special outdoor fans to meet extremely high ESP requirements due to the unusual installation.
"It is truly an honour to be part of such a prestigious and progressive project in the Gulf, which will transcend the boundaries of innovation."
– Asim Ansari, Export Sales Manager, Airedale International

The consultant for the project is M/s Buro Happold Engineering, and the client is M/s MEERAS. As the Museum of the Future is still under construction, the units are yet to be installed and commissioned by the MEP contractor- Transgulf Electromechanical,  a part of Al Naboodah Group in UAE via our Business Partner in Dubai, Al Mazroui Advanced Technology.
This is another great achievement from our Export Sales UAE team and Business Partners, and we look forward to the future for Airedale's presence in the Middle East.