Healthcare Estates Exhibition 2023 – Visit Airedale on Stand A54
Stand A54, Healthcare Estates, Manchester Central, 10-11 October 2023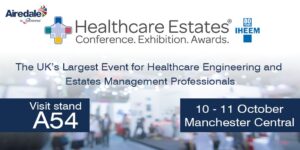 We are exhibiting at the Healthcare Estates Exhibition 2023, in Manchester on 10-11th October this year. This is the UK's largest event for healthcare engineering and estates management, and is the only national conference and exhibition to bring together those who design, build, manage and maintain healthcare facilities.
The show provides a fantastic opportunity for us to share our HTM 03-01 expertise with attendees, and demonstrate our technical knowledge in the healthcare sector covering AHUs, heat pump chillers, cooling only chillers and HVAC controls.
We can be found on stand A54 in the "Engineering and Compliance" zone.
They key themes of our exhibition this year will be sustainability, efficiency and expertise. We will be sharing our high efficiency, low energy AHU and heat pump solutions, looking at how energy upgrades and the refurbishment of existing units can extend the life span and improve the efficiency of a unit, and we will consider how taking a systems approach to heating, cooling, ventilation and controls can deliver improved efficiencies. Our expertise in designing and manufacturing HTM 03-01 compliant AHUs will be highlighted throughout the event, and experts in HTM 03-01 AHUs, controls and heat pumps will be available throughout the two days to welcome visitors to the Airedale stand.
Our new brochure will be available to collect, so do come over to us on stand A54 for a chat and a coffee with one of our engineering experts.
For more information about HTM 03-01 compliant AHUs, click here.
Healthcare Estates 2023 – 10th and 11th October – Manchester Central