Data Centres
Airedale's ability to combine hardware and software ensures that your data centre works smarter, not harder.
Effective application of aisle containment techniques can help data centres meet the key objectives of best-in-class facility design:
Improving uptime by reducing the dependency on mechanical cooling
Increasing energy efficiency and lowering PUE
Controlling capital costs through high density solutions
Cutting operational costs primarily through energy savings
Reducing footprint and increasing cabinet density

Open Aisle Containment
Traditional open aisle data centres use perimeter PAC (precision air conditioning) or CRAC (computer room air conditioning) units to channel cold air up through a raised floor void via grilles positioned in front of the IT cabinets. This has significant disadvantages as there is no separation between the supply and return air and significant air movement within the room resulting in poor return air control.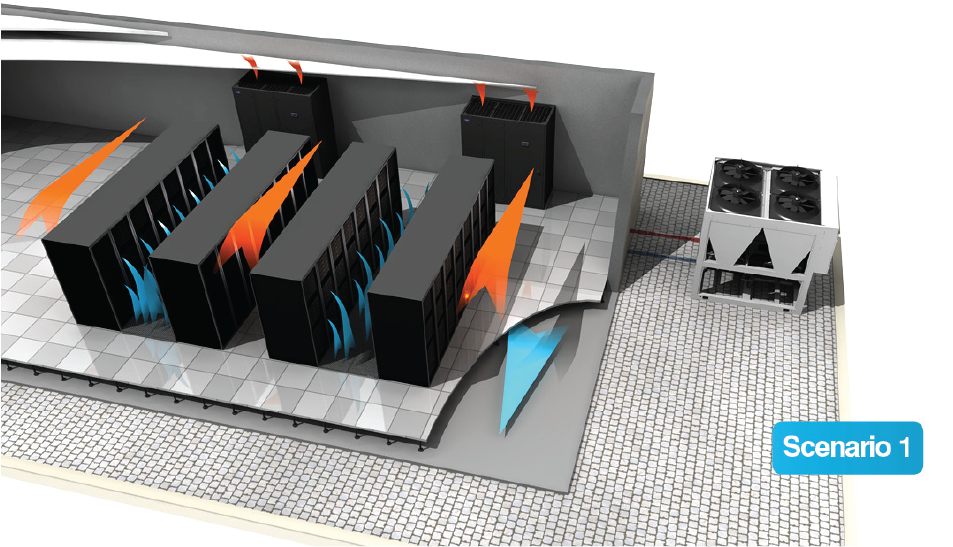 Cold Aisle Containment
In cold aisle configurations the supply air is contained and the hot discharge air allowed to return to the CRAC unit. Because the supply and return air are kept separate, the room temperature can be slightly higher than in open aisle architecture.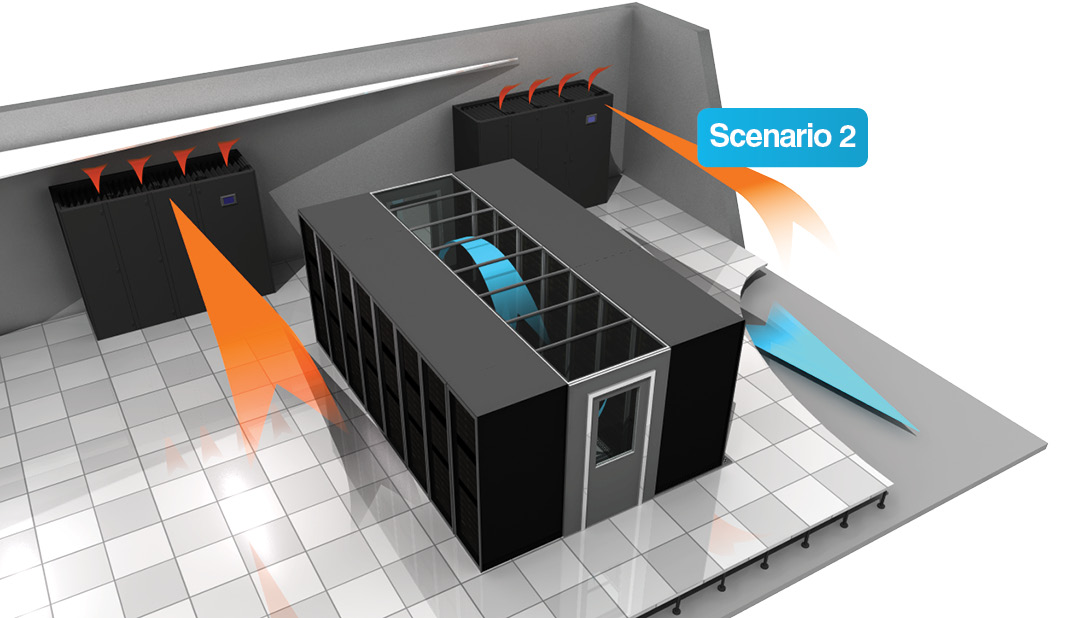 Hot Aisle Containment
With hot aisle architecture, the supply air is directed onto the front of the racks and the hot discharge air ducted back to the PAC units through the ceiling void; this provides better room temperature control and allows for higher return air temperatures, increasing free cooling opportunities.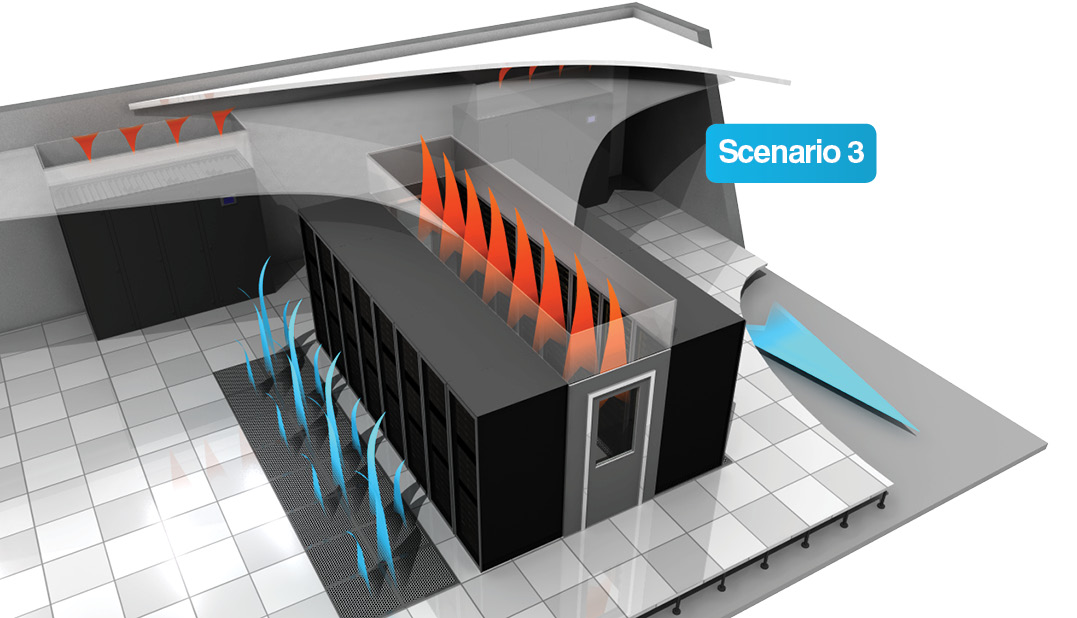 Hot Aisle Containment with in-row Coolers
The application of aisle containment provides much closer management of the supply and return air paths within ASHRAE guidelines which calls for supply temperatures below 27°C. By effectively managing air flow, higher air temperatures can be returned to the cooling coil to drive heat exchange and maximise free cooling opportunities.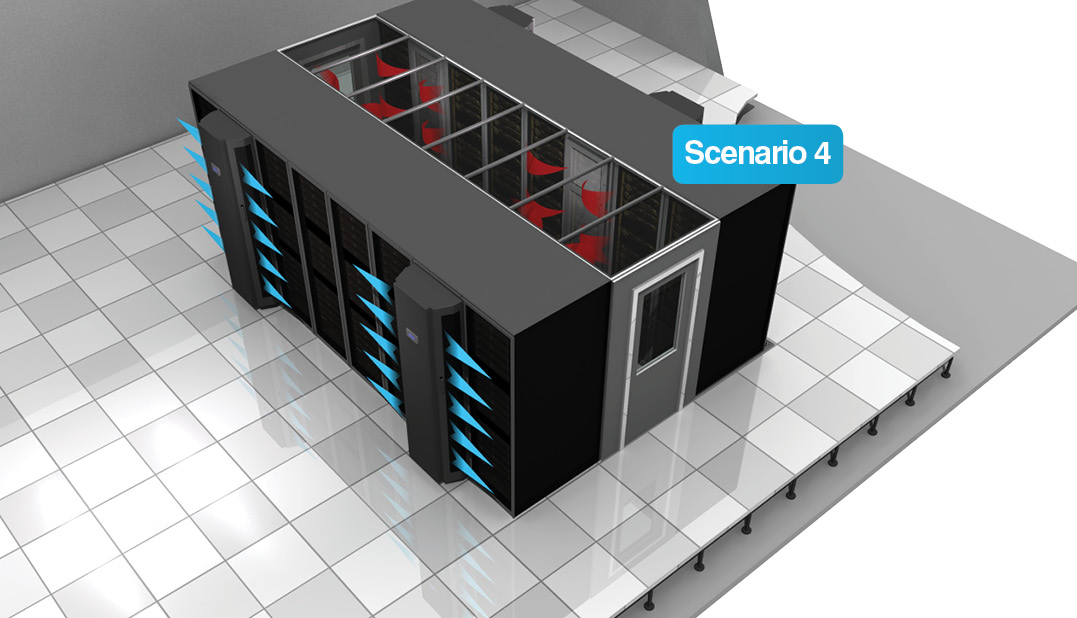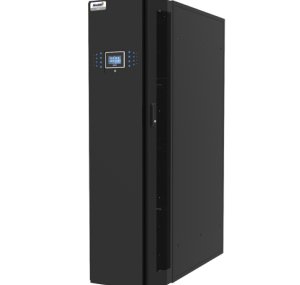 10kW – 67kW
High performance in row IT cooling solution which provides industry-leading cooling for its footprint from 10kW – 67kW with an EER up to 108.03
Contact Us Today
Airedale experts can help you take advantage of the latest aisle containment and IT cooling technology to deliver high performing, high efficiency, low PUE data centres. Whether you are designing a small enterprise data centre or a large CoLo facility, rest assured we have the expertise and the pedigree to support you.
We offer a comprehensive aisle containment best practise CPD and our Data Centre Solutions Team are experts in the application of aisle containment across the world.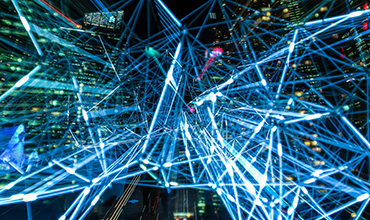 Read our blog on how optimised cooling solutions can help CoLocation providers realise their ambitions to be data hypermarkets.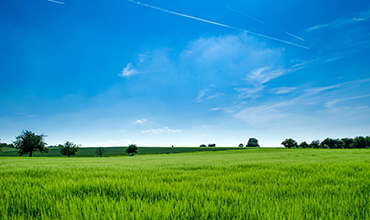 Find out how how high efficiency cooling can be achieved in high density environments without the use of adiabatics.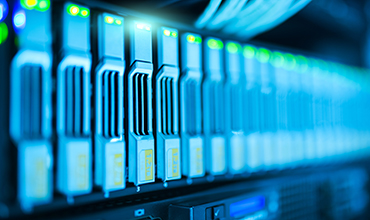 Our cooling solutions are trusted by the largest players in the super-colo market, read our blog to find out why.